First-Gen Graduates
Main Content
Taking the step to attend college and being the first in your family to do so is an important commitment. The First Saluki Center and SIU Carbondale offer our heartfelt congratulations and we recognize that it has taken a lot of determination on your behalf to achieve your goal. It is this determination that will see you succeed in your chosen career. Congratulations on your well-deserved success. Way to Go SALUKI!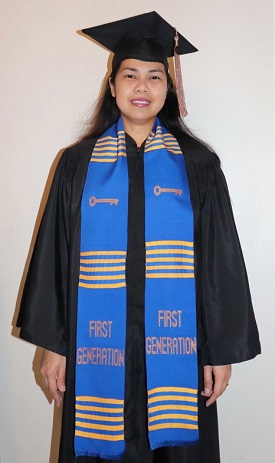 Dayagen Beam
Accounting
What are you most proud of having achieved during your time at SIU Carbondale?
Gaining knowledge from smart professors and being a Saluki!
What are your plans after graduation?
Start master's degree and full-time job.
---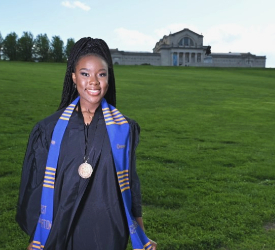 Tatyana Harriel

Marketing
What has been your proudest moment or achievement or accomplishment at SIU Carbondale?
My proudest accomplishment is keeping my grades up. I worked hard all four years and I am happy my hard work paid off.
What are your plans after graduation?
I plan on pursing a digital marketing career in the St. Louis area.
What advice would you give first-generation undergraduate students?
I would say use all the resources that are provided by the school. They are extremely helpful and will help you succeed.
---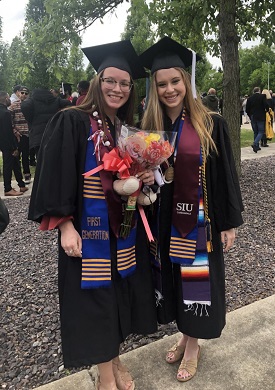 Emily Cooper
Journalism
What has been your proudest moment or achievement or accomplishment at SIU Carbondale?
My proudest moment at SIU Carbondale has been the personal growth I have seen on my own. My growth stems from the various roles and positions I have been granted at SIU, from Editor-in-Chief at the Daily Egyptian to Peer Mentor at the First Saluki Center, and so much more. I have grown more in the past four years than I have my entire life, and I am so proud to say it happened at SIU.
What are your plans after graduation?
I am planning on attending graduate school, school TBD, in the fall to receive my master's degree in Strategic Communications.
What advice would you give first-generation undergraduate students?
The best advice I would give to first-generation undergraduate students is to keep pushing. Being first-generation is an honor you never knew mattered greatly, but it matters, and it matters so much. It is a title that students should feel honored by as it provides a sense of pride. Being first-generation brings another level of confidence, but it comes with an abundance of hard work and determination. Keep trying, keep pushing, keep doing. It is all worth every second, even if, at times, it does not seem like it.
Alyssa Roimiser
Communication Studies
What has been your proudest moment or achievement or accomplishment at SIU Carbondale?
There have been many moments that I have enjoyed at SIU, including being in multiple RSO's and being a mentor at the First Saluki Center. The biggest thing that I have accomplished is receiving Latin Honors for graduation.
What are your plans after graduation?
I plan to work in either Human Resources or local government.
What advice would you give first-generation undergraduate students?
I would tell every first-generation student to get involved with the campus to have wonderful experiences during your years at SIU. This also includes getting involved with the First Saluki Center, which is a great resource to take advantage of.
---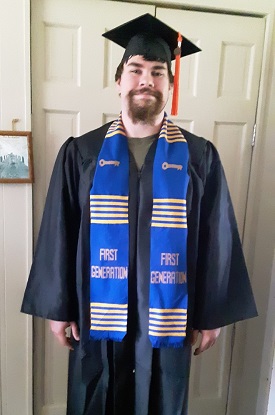 Jacob Compton
Automotive Technology
What has been your proudest moment or achievement or accomplishment at SIU Carbondale?
The fact that I have been able to use the knowledge I gained in real world situations.
What are your plans after graduation?
After graduation, I hope to start working in dealerships across the country.
What advice would you give first-generation undergraduate students?
Hang in there, you are the first of your generation to be here, make them proud, as well as yourself, when you look back.
---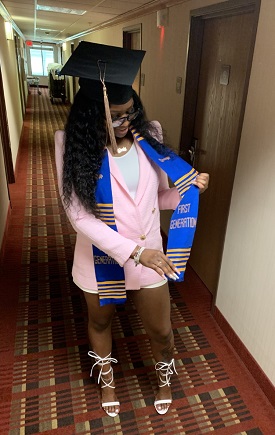 Kyala Darby
Business Management with a specialization in Personnel
What has been your proudest moment or achievement or accomplishment at SIU Carbondale?
One of my biggest moments at SIU was putting myself out there and going to college! I tried my best and stuck it out even when it got tough and wanted to quit, but I made it and I am graduating!
What are your plans after graduation?
I plan to move to St. Louis and work for an accounting firm in the human resource department at entry level and move up until I reach the director of HR.
What advice would you give first-generation undergraduate students?
Take time and go to tutoring if you are having trouble.
---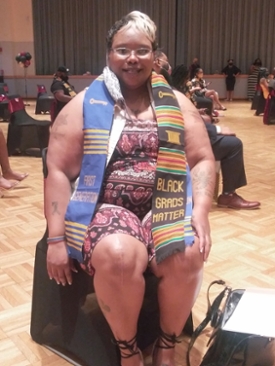 Carolyn Crosswhite
Social Work
What has been your proudest moment or achievement or accomplishment at SIU Carbondale?
Being sick with my diagnosis of Multiple Sclerosis and still making it to class. To work hard and help the children that are just like me. Having professors that got to know me and like my desire to push through walls that most people thought would hold me down.
What are your plans after graduation?
I want to open a non-profit organization to help homeless pregnant teens to have a safe place to learn and raise their babies. I want to work with at-risk youth from all backgrounds.
What advice would you give first-generation undergraduate students?
Get knocked down stay there for only one second. Then let the chosen gift God blessed you with rise. Then never stop chasing the ministry he gave you while in your mother's womb. Everything around you is a learning experience, use the good and bad to change your life and someone else. YOU ARE NOT YOUR CIRCUMSTANCES, FLY HIGHER THAN YOU CAN IMAGINE!!!
---
Tiej-Ann Williams
Cinema and Photography
What has been your proudest moment or achievement or accomplishment at SIU Carbondale?
It was being the first in my family to not drop out of school and get a degree.
What are your plans after graduation?
To move to New York and look for jobs.
What advice would you give first-generation undergraduate students?
Money isn't everything if you're doing something you love.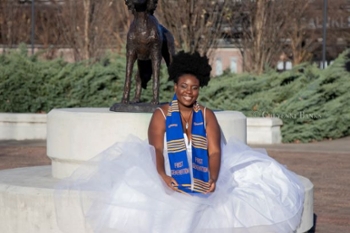 Cheyenne Banks
Radio/Television & Digital Media
"My proudest moment at SIU is just being able to make it to graduation. After graduation, I plan on pursuing a career in commercials or television as a production manager."
---
Brianna Bracy
Psychology
"I plan to continue my education after I graduate. I am proud of my grades at SIU! I am a non-traditional transfer student. When I first attended college, I had average grades, but taking that time off really put things in perspective for me. I returned to college to earn my degree and my grades have improved since I arrived at SIU."
---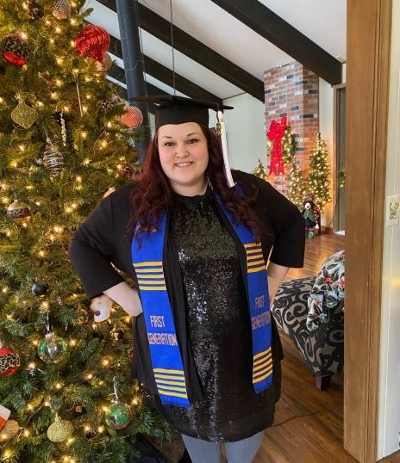 Kristin Davis
Accounting
"I had a few personal things happen that hit very hard so I am most proud of the way I was able to bounce back and keep my education a priority. I am also proud to be the first child in my family to go to college at all and will be graduating! After graduation, I will be starting at Wipfli LLP, an accounting and consulting firm near me."
---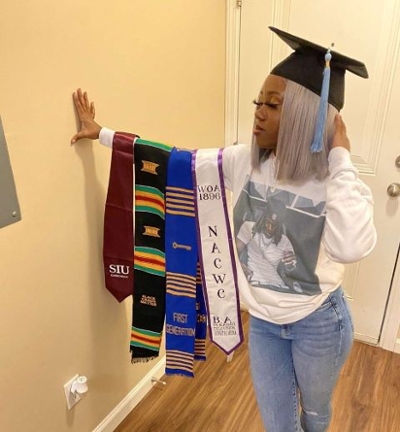 Minosha Echols
Radio/Television & Digital Media
"The thing that I am most proud of achieving here at SIU is finishing school throughout all of the financial hardship, emotional distress, and physical challenges that has been brought upon me throughout the years. My sophomore year, I had to leave school due to my bursar bill, but I didn't give up and I took a semester off and came right back to finish. Many people leave school due to money issues but I worked hard to pay the bill to be able to come back. I've also managed to keep my overall GPA at a 3.0 and above, which is something I am very proud of. After graduation, I plan to attend grad school, obtain a GA position, and also an internship to get me started into my career."
---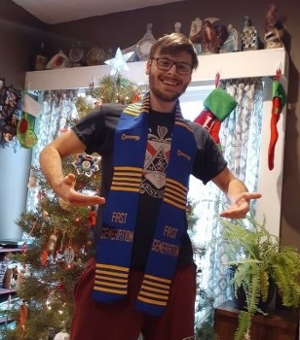 Nicholas Hanson
Anthropology
"I am most proud to have been a part of a great community of Salukis that have always helped me through trying times. After graduation, I plan on interning in West Virginia, and I will be sure to talk about how proud I am to be an alumnus of SIUC."
---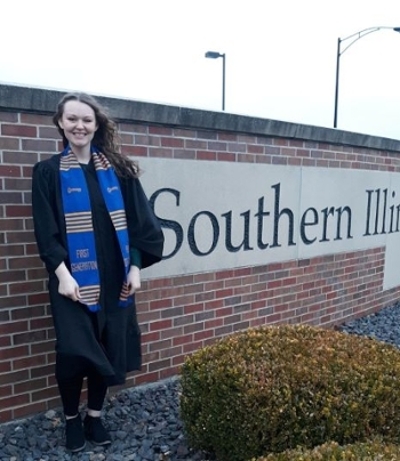 Victoria Herb
Zoology
"I am most proud to have completed my degree with high honors, to have chosen and pursued a field that I am passionate about, and to have grown various working relationships with my professors and peers. I have had the opportunity to contribute to current research and am excited to continue doing so in my future career.

My plan after graduation is to attend graduate school after working a couple years in the field to narrow down my interests. I first plan on completing my master's degree and PhD, then beginning work at a state or federal organization focused on conservation efforts for endangered species."
---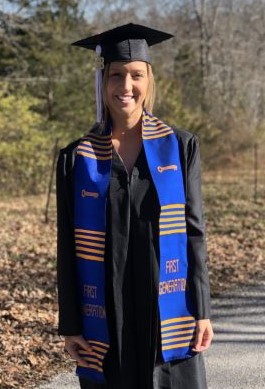 Courtney Holland
Communication Design
"My design skills have greatly improved with the amazing program and my job at the Student Center. I'm currently undecided about what I'm going to do after graduation."
---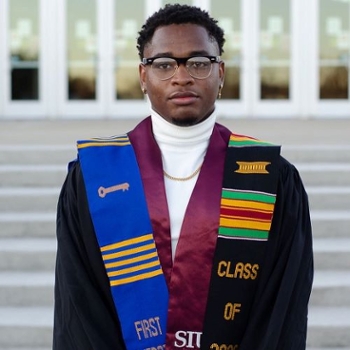 LaDarius Nolan
Criminology
"I'm proud i was able to face my fears and put myself out there to achieve my goals! After graduation, I will be returning home to Chicago to seek employment."
---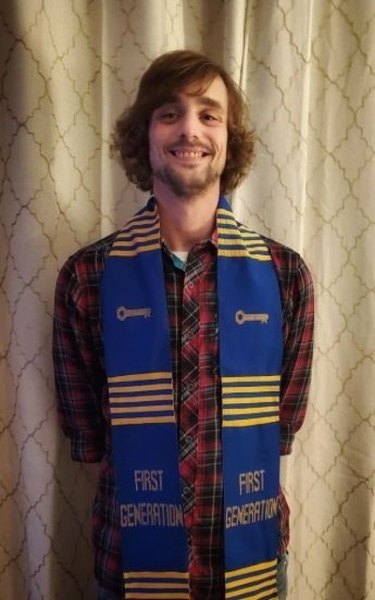 Timothy Serles
Geography/Environmental Resources
"I have maintained a 4.0 GPA, and I have secured a job using my degree. It would not have been possible without the phenomenal faculty and staff in the Geography Department."
---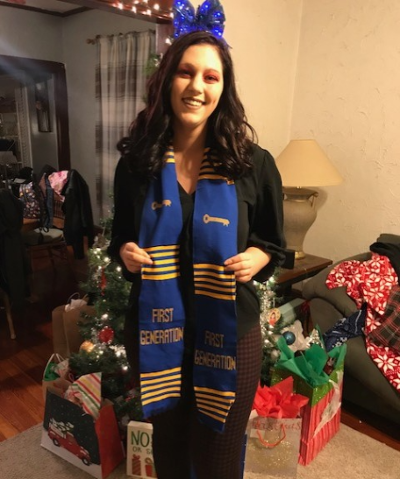 Riley Zollars
Zoology
"The thing that I am most proud of is majoring in something I really love. Both of my parents have told me they wish they would have gone to college and done something they are passionate about. They both have jobs, but neither of them loves what they do. Because I am graduating with a degree in zoology, I know I will be able to get a job that I look forward to each day. Therefore, I am very proud of myself for doing what I actually want to do and will make me happy. After graduating with my bachelor's degree, I will be coming back to SIU to attend graduate school. I will be going for a Professional Science Master's degree in Wildlife Administration and Management. I will be the first person in my immediate and extended family to attend graduate school, which I am very proud of!"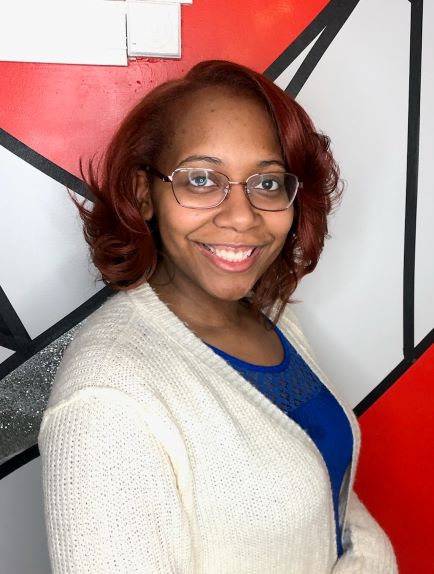 Yazmyne Adams
My name is Yazmyne Adams, I am 22 years old. I am the second oldest of five children and the eldest sister. My family and I are from the West side of Chicago. The only people to graduate a university are my paternal grandmother and aunt. I look up to them for guidance as I work my way through the Accounting Bachelor's degree I am pursuing. I chose to pursue a major in Accountancy because I wanted to understand further the idea of financial independence. In particular, I concentrate of Taxation, and how it can provide an individual knowledge of how their money is viewed, and be used as a benefit or downfall, is what I was passionate about.

During my academic career I have been involved and held numerous leadership positions on and off campus. Starting with my sophomore year I held the Treasurer position of the Black Togetherness Organization. Mid-spring semester I was inducted into Alpha Kappa Psi, Professional Business Fraternity, Inc. Concurrently with my education at SIU, I took Federal Tax courses at H&R Block and obtained my Tax Associate Certification. Afterwards I worked with H&R Block as a Tax Preparer for 3 consecutive tax seasons. During my junior year I held the Vice President of Professionalism position within AKPsi. I secured my first internship as an Accounting and Information Technology Intern at Flying Food Group, LLP. I also cohosted the first Women in Leadership Development conference at Flying Food Group LLP. My first year of being a senior I continued my internship at Flying Food Group but moved up to a Human Resources Intern. As I round my second year of being a senior and final year of undergrad, I am currently the Vice President of Membership for the National Association of Black Accountants. As well as I am attending my second internship of being a Tax Intern at RubinBrown, LLP.

After graduation of my bachelors I intend to pursue education up to Doctorate level. In midst of doing that I intend on obtaining a position in tax at a Big 4 Accounting Firm. Following that career, I plan to venture out to start my own hair care brand.
---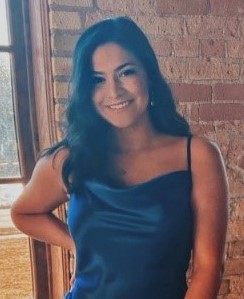 Jessica Marie Anguiano
I am the daughter of Jennifer Anguiano & Federico Anguiano, and I am from Oswego, Illinois. I am the middle of four children. Growing up, I have always looked up to my father, as he migrated to America when he was 18 years old. He came looking for a new life, full of opportunities, happiness and success. My father has worked every single day of his life to provide for our family and to build a loving home for us. He gained his citizenship in the year of 2008. I stood in the courtroom proud of my father, and the family/life he has built around us. Growing up as a minority set a lot in perspective for me, as life had its challenging moments. I had always felt that I needed to work a little harder than my peers. I always made sure to push myself a bit harder to prove that I was no different than those around me. When given the opportunity to go to SIU, I saw this as my opportunity to show what I am capable of. My major is Fashion Design & Merchandising, specializing in Merchandising with a Marketing Minor. My youngest sister Isabelle was born with quadriplegic cerebral palsy, and she inspired me to choose this career path. I chose this major to one day work for an adaptive clothing line and bring more awareness to children/adults with disabilities. To bring awareness that fashion should NOT be limited to anyone.

While at SIU I have been given the best opportunities, such as studying abroad in Grenoble, France to earn my marketing minor. During this time I was able to explore over 5 countries, and getting to experience a new culture, and way of life is something I will never forget. I will always be grateful to have had that experience.

After graduation I will be returning to Oswego, IL and am currently looking for an internship. I am not limiting myself, as I am looking in event planning, buying, visual merchandising/marketing. I am currently in the decision process of which company/offer suits me best at this time. I am looking within the Chicago area, and will hopefully be a permanent resident of Chicago within two years!
---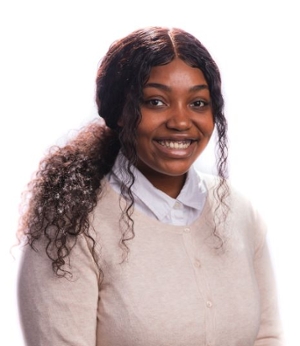 Briana Booker
My name is Briana Booker, and my hometown is Joliet, IL. I come from a family of five with both of my parents being strong, dedicated, and hard-working individuals that always provided for my older sisters and I. Being a college graduate has always been a dream of my family as well as a thriving personal goal of my own. Being exposed to the detrimental effects that mental illnesses/health has had on the black community as well as my family for decades, has always inspired me to promote awareness as well as prevention throughout the community. Seeing how the traumatic effects of mental health/illnesses in my family has tremendously impacted as well as influenced other families within the black community motivated me to pursue my degree in Psychology. I am a Psychology major with Criminal Justice/Criminology and Sociology as my minors. I have been the President of the organization Naturalistas going on two years as well as being a research assistant in the Early Childhood Developmental Lab. My future plans after graduation is to obtain employment while continuing my research studies. I then plan to continue my education by attending Graduate School and ultimately becoming a Clinical Psychologist.
---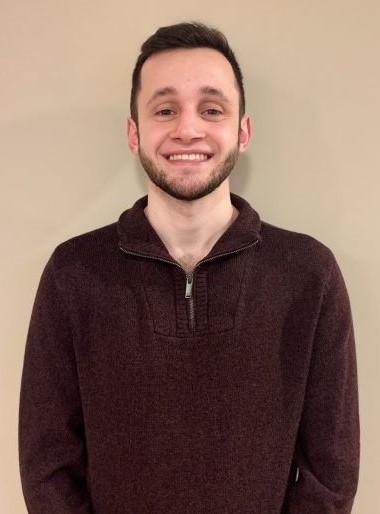 Constantine Charalab
My name is Constantine Charalab and I am from Northbrook, IL. I am a senior studying Therapeutic Recreation. My first year at SIU proved to be very challenging as I came to the university as an undecided major. After two semesters I did not have a path but quickly found one after meeting with the advisers in career services, that path was Therapeutic Recreation. After I found Recreation I fell in love with helping others and being able to give back to the community. I credit my family, friends, and professors with my success here at SIU. I have been lucky enough to be a part of Sigma Pi Fraternity and serve as their Vice President in 2019, as well as be their scholarship chair to ensure a high GPA for all members. In the Fall of 2019 I was accepted into Order of Omega, an honor society recognizing members of Greek life who have attained a high standard of leadership. I have just recently been accepted to the Masters of Public Administration program at SIU and I am looking forward to continuing my education as a Saluki!
---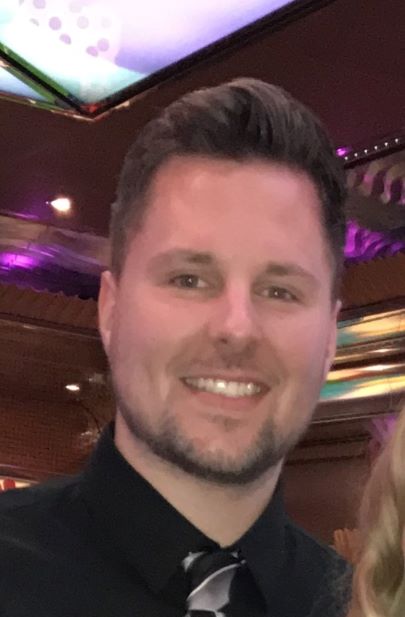 Mike Crews
My name is Mike Crews and I am from Round Lake, IL. I currently work as a sales supervisor for an industrial control company. As for my collegiate career, I started in 2010 right after high school, and ended up leaving for various reasons. I always knew college was important to me, but didn't want to waste time and money by not knowing what I wanted to do. Around 2016, I was pretty unhappy with my situation and knew I had to make a change. I eventually found my way back to school with the help and encouragement from my now fiancé Jessica. Her love and support has helped guide me through all the long hours I spent studying late at night and on the weekends. My major is Business Administration and after college I want to work in business development and sales analysis for a medical or pharmaceutical company. I eventually want to pursue my masters in Business Administration.



---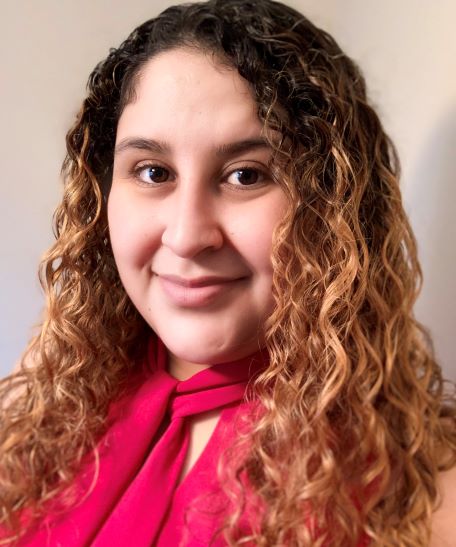 Alma Alcala Delgado


My name is Alma C. Alcala Delgado and I am 23 years old. This May I will be graduating with a Bachelor's in Science and a major in Dental Hygiene. I was born in Zacatecas, Mexico and moved to St. Louis, MO when I was 10 years old. My life had to start over in a new city with a new school, new language and new people. Over the years I learned to overcome the cultural barriers and make the most out of my talents. After high school I attended SWIC then transferred here. I have enjoyed my time in SIU and learned a lot. Now, I am ready to get my career started as a dental hygienist and serve the Greater St. Louis community.


---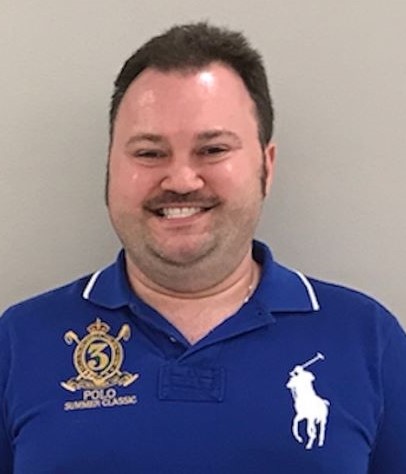 Travis Dobrey
My name is Travis Dobrey, and I am from a small southern Illinois town called Harrisburg. Not only am I a first-generation college student, I am a non-traditional student as well. I came to SIU after pursuing many different career paths. Nothing ever felt quit right. I started out in chef school on the East Coast and realized it was not the best fit for me and moved back home. I experienced life, helped take care of my mother and sister, and put my career goals on hold. Living paycheck to paycheck I realized I need to get my education. I went to school full and part time trying to figure out what I wanted to do. I always thought I should be a doctor. I have always had a desire to help people and am a good listener. I was not happy as a pre-med student, and I learned that I could fulfill my true calling in social work. As a social work student, SIU gave me many opportunities; such as co-authoring a research paper that was submitted for publication and advocating in Springfield for a policy that I collaborated on. I was also able to create a support group for LGBT individuals who struggle with their faith. This helped solidify that I was doing my true calling. My future plans include attending the advance standing masters program of which I was accepted. After graduating with my Masters of Social Work degree, I plan to continue to help LGBTQ individuals who struggle with their religious beliefs.
---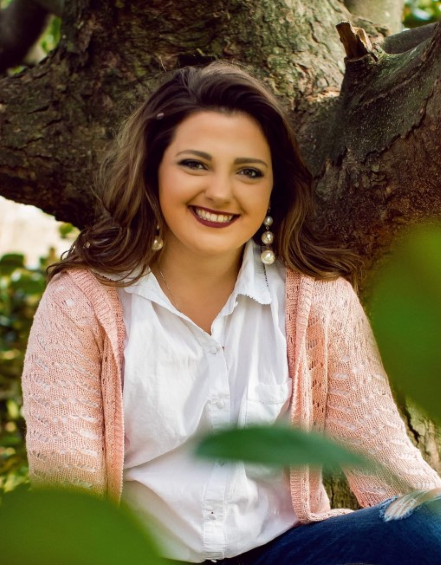 Candie LaShay Foster
My name is Candie LaShay Foster. I live in Cape Girardeau with my husband of  4 years. I began studying for a nursing degree right out of high school. After not achieving the goal, I came to SIU in 2018 to pursue a degree in Communication Disorders and Sciences. I fell in love with the major and SIU. My mother achieved her GED as well as some college courses. My father finished the 6th grade. I am an active officer in the RSO NSSLHA. I plan on attending SIU in the fall the receive my Masters in Communication Disorders and Sciences to become a Speech-language pathologist.




---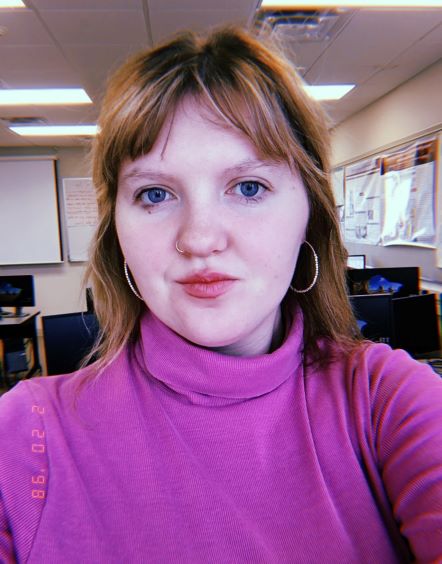 Samantha Griffin
I am a geography major with a horticulture and a history minor, and I hope to start graduate school for environmental biology in the fall. I am from Chicago, Illinois, and my parents are both astounding, hardworking people who worked to help put me through college. They have tirelessly put me through school and tried to support all of my interests, even though the town I am living in is five hours away and many more worlds away from them. I discovered my original interests by loving the natural world, often with my family. I'm so lucky they're supporting me going forward.  I believe in being invested in my surroundings, and being invested in our local communities. I hope to become a credit to the world around me after graduation, and to Salukis everywhere. Go Southern!



---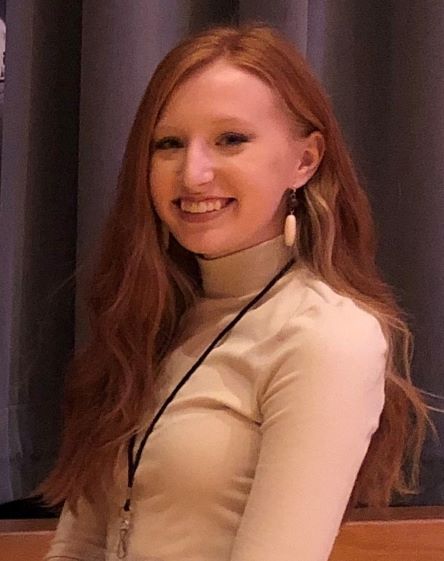 Shayla Heery
My name is Shayla Heery, and I will be graduating this May with a Bachelors of Fine Arts in Art Education and a K-12 Teaching certification. I was born and raised on the Southside of Chicago until the age of 8 when my parents moved our family to Ottawa, Illinois with the hope of providing me and my siblings with a better life. I have always had a passion for art making so after graduating high school I attended Columbia College of Chicago as an illustration major. During this time is when I discovered my true desire to teach, because of this new found aspiration I decided to finish my third semester of school and then take some time off to assess what my next step would be. This lead me to the art education program here at Southern Illinois University Carbondale, where I have had the privilege of becoming the President and founding member of the Association of Art Education Students RSO, received the Abrahamson Art Education Scholarship, and earned funding to attend two Illinois Art Education Association state conferences. Upon graduating this May, I plan on returning to northern Illinois to be closer to family and becoming an art educator that teaches my students life lessons and skills through the use of art making. Throughout my entire educational journey I have realized one thing for certain, I could not have made it this far without the unwavering support from my family and the constant encouragement from my parents.
---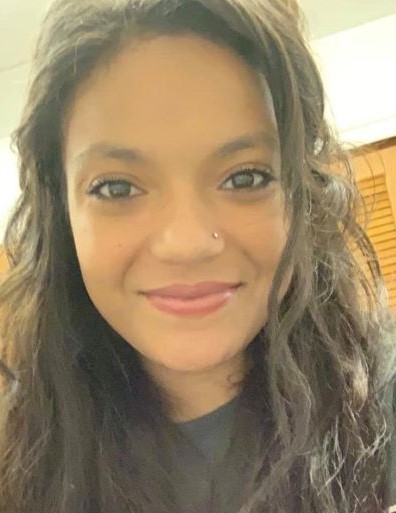 Lauren Howard
My name is Lauren Howard, and I am from Princeton, Illinois. I grew up with a furiously-determined single mother, who grew up in a broken family. She was emancipated by sixteen, working three jobs to support us. She clawed her way out of poverty to give my brother and I the life we have been fortunate enough to have. Growing up in the small, rural hometown, I faced many obstacles. One of the biggest obstacles I faced was being the only female of color in my school. This stayed true until high school when our numbers went from one to five. Another obstacle I faced was early-diagnosed ADHD, which caused me to have an IEP. For many years I spent my life trying to contain my energy. One way I learned to do this was through books. When I sit down with a good book, everything disappears around me. It's truly the only time I am fully focused. This led to an intense love of literature. Here at Southern Illinois University I was not only able to explore the world of literature and creative writing, I also discovered a passion for history I didn't know I had. In May I will be graduating with a double major in Creative Writing and Classical Civilization, with a specialty in Roman and Greek, as well as getting a double minor in Mythology and Art History. From here I want to apply for graduate school and get my master's in museum studies and eventually become a curator. I also plan to pursue my writing career. I never thought I would go to college, let alone graduate. I want to show my mom, my brother, and my niece and nephew that no matter what happens in life, who you are, what fears and obstacles stand in your way; that if you just believe in your ability, that you can make anything happen.
---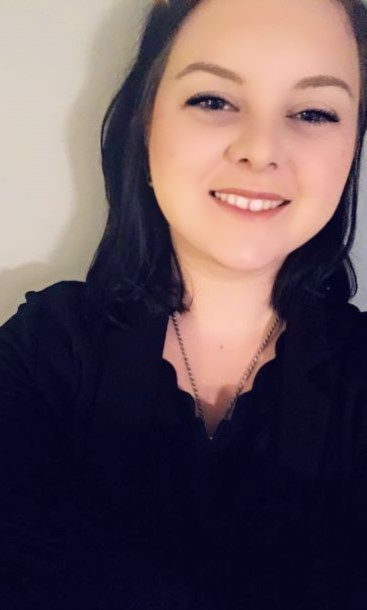 Kennedy Jacobs
I'm from Darien, IL a suburb 30 minutes south of Chicago. I'm getting my degree in Mortuary Science and Funeral Service with a minor in Forensics Science. I came to SIU as an undeclared student and it wasn't until my sophomore year that I decided that I wanted to go in Mortuary Science and Funeral Services (MSFS). It was scary being the first to go to college and I felt an extreme amount of pressure to do good. I always loved school and knew I was going to go to college, but you nor your family knowing what to expect was scary. I grew up knowing that I wanted to help people but I did not know how.. When I came to Southern I was exploring my options and I looked into MSFS and it was everything I wanted. I wanted to be there for people and help people when they are sad and there's nothing more vulnerable than a death in the family. While I was in college I had three family deaths, and growing up in a small family this was devastating. And although this was a sad time for me and my family, the funeral directors were cold and callous. It was just another service to them, they were detached from showing empathy or compassion. I want to change that, I want to make this rough and emotionally hard time in someone's life easier. I want someone to feel like someone cared about their loved one like they did and give them the respect they would have given their loved one. MSFS in the past has been a very male-dominated field, but today more and more women are getting into this field. It is still a daily struggle to have to be able to prove my ability is as good as any of the other men. I have my mother to thank for that. She never finished college but she fought very hard to get where she is today. She has been a manager in many establishments, worked and fixed airplanes, worked as a realtor and was in the print and press world all before being a commercial loan officer for a bank. She had to fight every day to prove just how capable she is to be in the positions she's been in. When you think of higher up positions or airplane mechanics you think of men in those roles but she has taught me that even though something might have been one way for a while does not mean it cannot change. She reminds me of this everyday when men in my profession try to underestimate my ability to lift and do the heavy or not so glamorous work that goes into my profession. But at the end of the day when I have a grieving person come up to me at the end of the wake or funeral, and tell me how appreciative they are for me and how they thank me for giving their loved one dignity and respect, I know that this is what I want to do.
---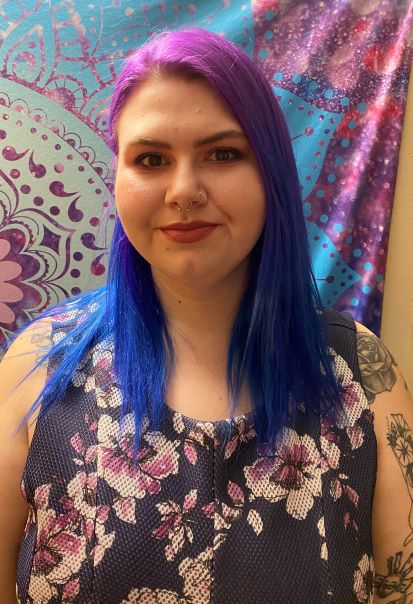 Shelby McMillen
My name is Shelby McMillen, an only child born and raised in Saint Louis Missouri. Growing up it was just my mom, grandma, and I - they were my main support team and always made sure I knew that college was an option for me. It took me a really long time to figure out what I wanted to pursue and I always knew it was going to be something involved with animals, but it wasn't until my junior year of high school that I decided on Zoology and SIU. While working on receiving my Bachelor of Science (BS) for Zoology I rediscovered the love I have for all things Art History when I worked as a Figure model for two years, along with taking various elective art courses, and working as a Docent at the University's Museum. In high school I was very active in the school's art club, and am incredibly thankful for my art teacher at the time who really helped me understand art on a different level. I am also thankful for SIU's own Dr. Mont Allen who helped me realize that I could pursue this passion and didn't have to keep it on the back burner. With all of this mixed together I am now receiving a BS in Zoology, as well as a minor in not only Art History but also in Classical Civilizations.

As someone who wasn't diagnosed with ADHD until their third year in college I struggled a lot and because of this it took me an extra year to finish my degrees. Though college is not a race and I hope to one day help teach others dealing with similar issues that they can do anything they set their mind to as long as they put in the work. My future goals are to work with animals by pushing towards becoming a Zookeeper, but I am also very interested in opening up a rescue for animals, especially dogs that are labeled as aggressive breeds. As for my two minors, I currently do not have anything in mind on how I am going to put those to good use, but I am highly interested in furthering my education on the subject matters with the hope that it would open up many new opportunities.
---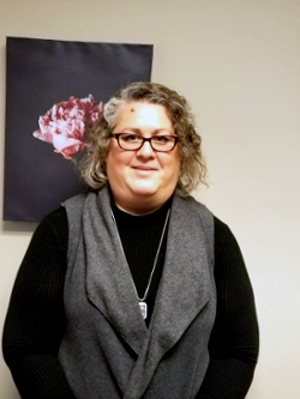 Angela Peterman
My name is Angela Peterman. I was born in Cape Girardeau, MO to a single mother who did not finish high school. When my mother married my step-father, we then moved to Freeburg, IL. My biological father did not finish high school either. I have two younger brothers. I graduated high school at Freeburg Community High School in 1986. I then attended The Academy of Beauty Culture in Belleville, IL. and received my Cosmetology degree in 1987. I worked as a Cosmetologist for over 25 years. I had to stop working as Cosmetologist due to health concerns. After my career as a Cosmetologist, I took different jobs and in none of them did I feel like I had a purpose. I knew I needed to do something fulfilling and with purpose. I chose to go back to school to work with children and their families.

I have always loved being around children. I also chose this because my youngest brother has learning disabilities and when we were young there was no early intervention services or birth to three programs. If there had been services to help my younger brother, I know he would have progressed farther in school and had a better school experience. We were raised in the early days of special education. My brother was placed in a small classroom down at the end of the hallway and had little or no interaction with the typical students. This was so hard on him and even today he is not a very social person because of this. This experience has impacted my life and I hope to impact the lives of others to get them the help and support my brother was not offered.

My major is Early Childhood Education and Family Services with a minor in Psychology. After graduation my plan is to work in the field with birth to three-year olds, either in a classroom or as a home visitor. I look forward to working with families to teach their children.
---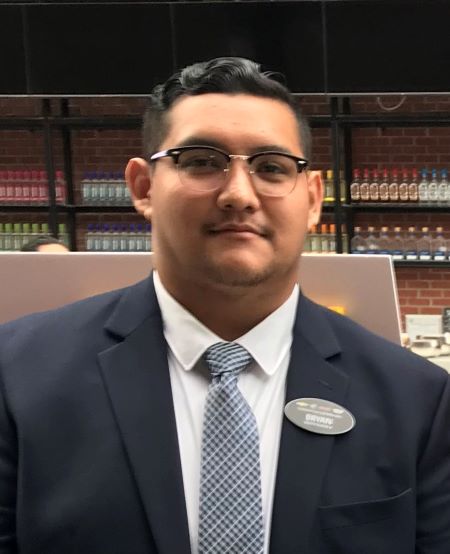 Bryan Pizano
My name is Bryan Pizano. I'm from South Elgin, Illinois, a northwest suburb of Chicago. I'm a senior on the way to graduating with a Bachelor's in Automotive Technology. The second of 3 children, I had always been a fan of anything related to cars and SIU gave me the opportunity to excel at my hobby and make it a career. The path here was not the most ideal, as it consisted of trial and error until it came time to put in the time and become part of one of the best automotive programs in the county. In the beginning, it can be a bit overwhelming, trying to figure out how to do basic things like signing up for classes can be difficult when you have no one you know to help you or give you advice. Thankfully, SIU is full of helpful people that made the task easy and helped in any way possible. I hope to better the automotive industry as there is a big change needed. The exercise that SIU and Carbondale as a city have provided me with will aid the start of my professional career come graduation day.
---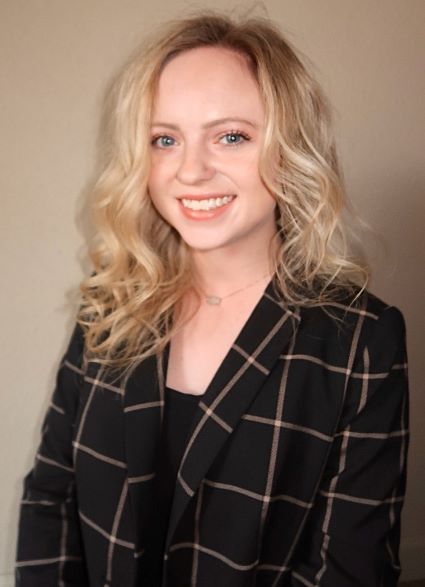 Madeline Reinhardt
My name is Madeline Reinhardt, and I am from Herrin, Illinois. My family has worked their whole life to support me and when college was their peers path, I was brought into the situation and finishing became hard to conquer. Even without a degree my family has moved up in their current jobs at the VA and AMC Movie Theaters. My family has just moved for their jobs to Tampa, Florida to achieve their goals. When the choice to go to college became an option for me, my parents always pushed me to finish my goals and put myself first. They want me to live a "better" life than they did, even though I believe they have a great life. Their great drive for my success has been what has pushed me to finish my degree. My major is Communication with a specialization in Public Relations and my minors are Marketing, Journalism, and American Sign Language. After graduation the possibilities are endless but I will be moving to Tampa with my family to find a job in the Marketing/Communication field. While at SIU, I have been the Vice President of PRSSA and a member of the Saluki Shaker Dance Team for all years I have attended SIU. This year I have moved up to team captain as well. I recently have applied to join ASL Honor Society too.
---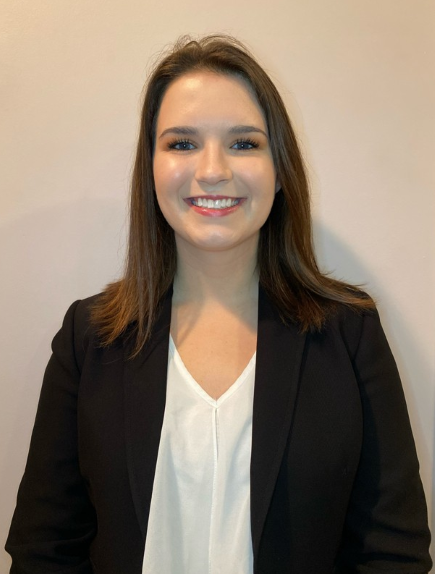 Cora Siebert
My name is Cora Siebert and I am from Rockford, IL. I have one brother, divorced parents, and four dogs at home. My mother worked three jobs to pay for my brother and I to attend a private middle school and high school, and we worked hard to make sure we had the chance to get a degree that my mom was not able to get. At SIU Carbondale, my major is Hospitality, Tourism and Event Management. I was involved in numerous organizations and activities such as, Eta Sigma Delta Hospitality Honors Society member, Undergraduate Student Government Senator 2020, Rho Lambda member, Order of Omega member, College Panhellenic Association President in 2019, Sigma Kappa alumna, fundraised for St. Jude and Dance Marathon, 2019 Greek Goddess, and Kappa Alpha Order Sweetheart. After graduation I am going to take a year to work in Carbondale, but I am interested in furthering my education to study higher education or moving to a large city and working for a hotel company.
---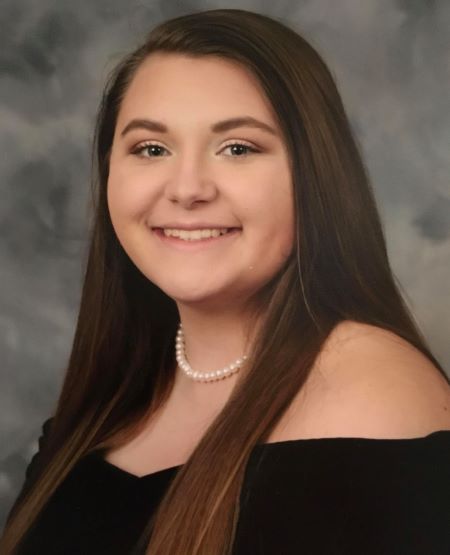 Avonlea Strait
My name is Avonlea Strait and my hometown is Cuba, IL. My mother Jennifer Strait works for Catapiler and my father works for the U.S. Post Office. I have always been driven in my education. I graduated with my associate's degree from Spoon River College the day before I graduated high school. I have always known my next step in life was college. Since I was young I was always interested in law. My major is Paralegal Studies. I am involved in Organized Paralegal Studies and I am a member of Delta Phi Epsilon. My future plans are to work at Walter's Law office in Canton, IL as the head Paralegal.



---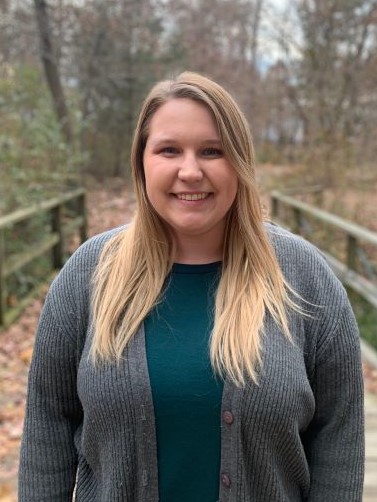 Destiny Swalve


My name is Destiny Swalve and my hometown is Shannon, Illinois. I come from a 5th generation family farm where my family either worked on the farm or went straight into the workforce after graduating high school. I was impacted by my high school agriculture teacher in many ways, so I wanted to become an agriculture teacher like her. My major is Agricultural Systems and Education and after graduation I will be the Armstrong Township High School Agriculture teacher starting in fall of 2020.




---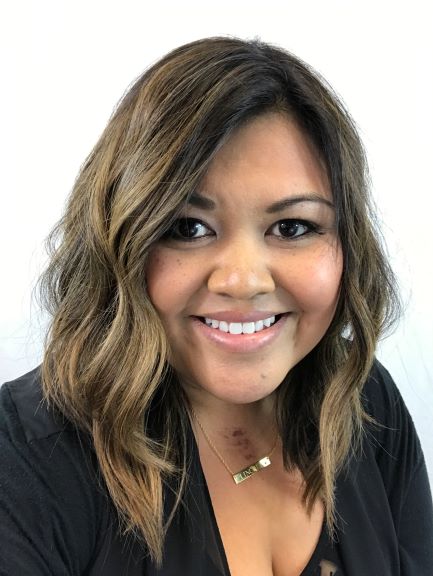 Manivone Anny Vanderhulst
My name is Manivone Anny Vanderhulst and I'm from Batavia, IL. My siblings and I were the first-generation Chantharasy family born in America. My parents are from Laos and made their way to Thailand refugee camp because of the Lao Civil War. They were selected to travel into America in 1981, heading to San Francisco, CA which is where they had a sponsor family to help guide them to find jobs and places to live and settle in.

My parents struggled financially growing and raising a family in America. They always encouraged my siblings and I to get a good education foundation in order to be successful in whatever we choose to do in life. They didn't want us to struggle the way that they did. My journey was definitely a journey with many life events that have taken me off my course to finish my bachelor's degree. I had many setbacks and experienced trauma that I decided to take a leave from school when I was about to be a senior in college back in 2004. With my work ethic that I learned from my parents, this led me to give 12 years of service to L'Oreal. I decided it's time for me to go back to school and finish what I started. It's not easy to balance being a mother to 2 toddlers and having a full-time job with extensive travel while finishing my degree. This current semester, I lost my dad and had to find my inner strength to finish through as he valued education. We all go through setbacks in life, it's how we choose to move forward, and what we learn in our setbacks in order for those experiences to set you up for what's to come.

My major is University Studies with a minor in Accounting. I plan to continue to grow my career within L'Oreal. I set the example for my family that it's never too late and anything is possible if you put your mind and energy towards what you want. It's a marathon not a sprint. If my journey and life experiences can help someone find hope in their dreams and aspirations then my next goal is to strive to write a book.
---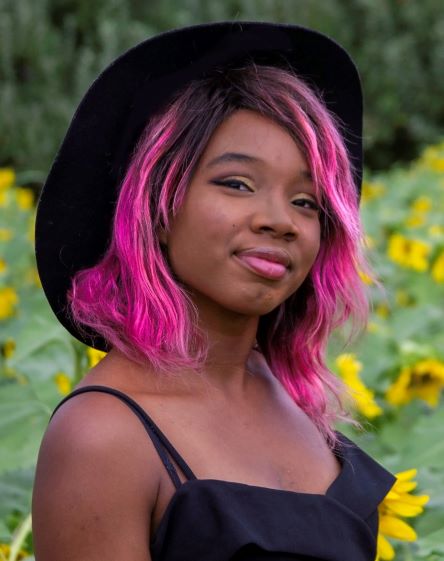 Tea Williams
My name is Tea Williams and I am from St. Louis Missouri. I come from a decent-sized family: mom and dad, and 3 siblings. I am the youngest of the 4; I have 2 older brothers and 1 older sister. As pursuing my degree, I have always known from a young age I wanted to work with animals and knowing I would be the first of my family to earn a bachelors that inspired me even more. I came to SIU and joined the Zoology department to complete my degree in Zoology with a focus in Animal Biology. During my years here at SIU, I have been involved with some organizations: the most prominent being the Marching Salukis. Joining the Marching Salukis was one of the best decisions and Dr. Brozak was a phenomenal Director. In addition, I was also a part of the musical fraternity on campus, Sigma Alpha Iota, and held some leadership positions. I most recently acted as the vice president of a diversify STEM RSO lead by Dr. Jason Brown. After graduation, my current plan is to take two years to gain more hands-on experience as a manager at a song bird hospital. Once I have obtained my two years of experience, I will apply for graduate school!